Published on Thursday May 8th, 2008
I told you I couldn't resist swatching all that sock yarn, once I had the idea to make a Confectionary Vest rather than a Confectionary Tank, remember?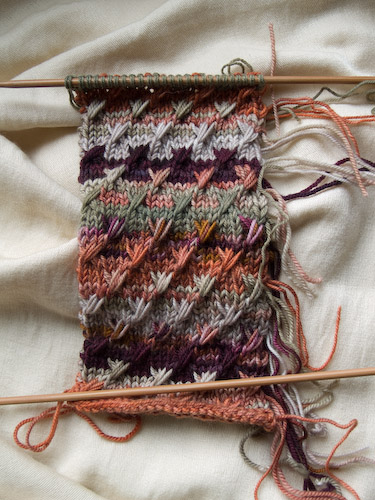 I thought this stitch pattern might be a chore, with those extended-slipped-crossed stitches, but it turns out it's addictive. (Hence my swatch is twice as tall as it needs to be.) I'm still playing with the arrangement of the colors, but it feels like painting, and it's extraordinarily satisfying. Can you picture it as a vest, with some 2-color corrugated ribbing for trim? I think it might be just the thing for next fall.
I won't start knitting it before then, unfortunately. I'm creeping up on the completion of my secret Shibui project, and the Ivy stole will be finished in ten days if I have to stay up nights to do it, but then it's going to be full steam ahead with my secret Popknits project and the Indigo Ripples Skirt. I really should take a swing at finishing my three-year-old Frost Flowers pullover, and then there's that bag of Cashcotton 4-Ply in the stash suddenly begging to be an Apres-Surf Hoodie. Not to mention all the babies hitting the ground in August and needing little sweaters for the fall. What's a girl to do, especially when she's got sewing projects tempting her, too? Resist buying yellow and white and gray and black fabric for this (thanks a lot, Alison) or this (it was the embroidered bicycles that sent me over the edge), for starters.