Published on Wednesday April 23rd, 2008
While Mr. G was in Toronto, I had to point out to him that he was in Yarn Harlot country, and that while she herself was a stone's throw from my own home town at the time, he should really be storing up impressions of the lay of the storied land to relate to his wife. He should especially keep an eye out lest he should happen to stroll by Her LYS.
Reader, the sainted man walked thirty-five blocks to visit said LYS. And he brought me this: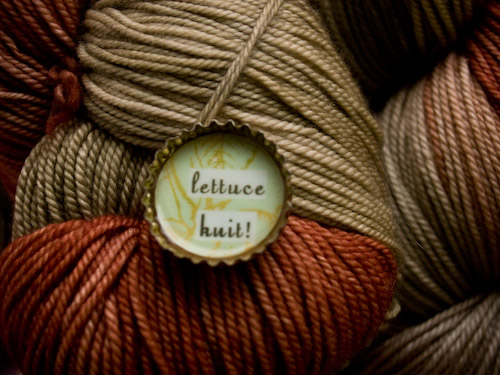 I may have suffered the most fleeting of disappointments that this is a Budweiser cap and not Molson or some other brand that's, well, Canadian. But it's still an awesome idea, and it's also a magnet — a pleasingly powerful one at that.
But let's pull back for a better look at the yarn, no?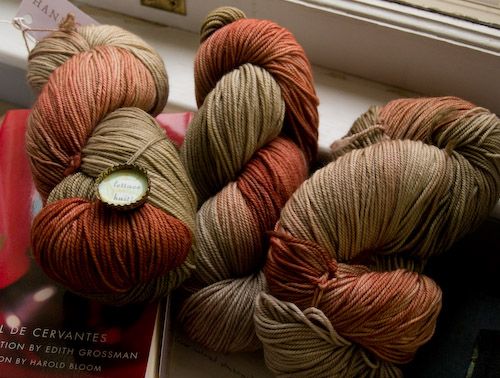 Just imagine how improved the world of knit blogging will be if they ever invent Pat the Bunny technology for computer screens. You know, so you can feel the yarn in the picture. Because this is HandMaiden Casbah: a collective 975m of 80% merino, 10% cashmere, 10% nylon. Ain't it glorious? Poor Mr. G was a little crestfallen that he hadn't brought me something I'd never seen in the U.S., but I assured him that he'd managed to peg one of my very favorite yarn companies, and it's a colorway I've never seen. It isn't on the HandMaiden colour card – perhaps it's exclusive to Lettuce Knit?
According to the company's information, this is designed to be a sock yarn. I'm here to tell you it doesn't feel like one. And I have such a wealth of it! I do believe it needs to be a sweater of some kind. I think I've written before that I have opinions about the use of variegated yarns in large garments. Socks can be as rangi changi* as you like. Babies can get away with anything. But it's tough to sell me on strong random color changes in large swathes. I need regular striping or something to subdue the chaos. I'm half considering designing a sweater made out of narrow strips of garter stitch so I can figure out the color repetitions and make them stripe. That instinct, I realize, borders on the psychotic. Think of the seaming! There must be an easier way. Miters might do it, for instance. So leave me your suggestions – what patterns do you know that might make the best use of these soft desert colors?
Of course, I can always settle for a lovely lap blanket. The yarn is machine washable, after all. And no matter what it becomes, my husband is a sweetheart.
*This is a useful Nepali word with the felicitous dual meaning of "riotously colorful" and "drunk." Honestly, is there a better descriptor for some of the sock yarn out there? Why don't we have an equivalent word in English? Nepali fills many holes in my English lexicon. Another is kaancho, which describes the mouth feel of under-ripe bananas.