Published on Tuesday April 22nd, 2008
Thank you all so much for your kind words about Gram. It means a lot to me, and I'm sure to my mum, who reads here sometimes!
It's been a drear few days weather-wise, and we're all suffering a little cabin fever around here. Mr. G went to Toronto for five days, which means that Lark has been living in the car in the school parking lot and Mingus hasn't been outdoors in two days, since I haven't wanted to subject him to a whole day of huddling outside in the downpour by letting him take his morning constitutional before I leave for work. So it was an extra treat to come home yesterday and find these pushed through the mail slot: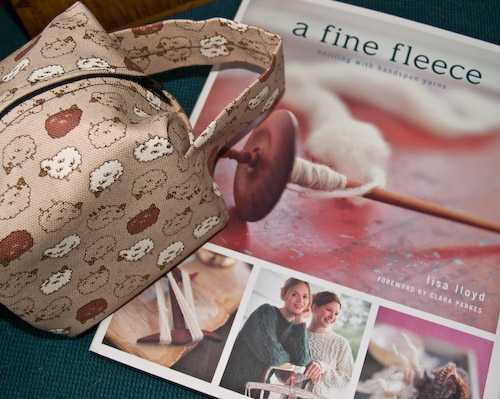 Isn't is marvelous how it's still so exciting to get presents from the mailman, even if you've bought and paid for them? That's a Schrodinger Original sock cube – just the thing for protecting my socks-in-progress from the cruel world of cat hair they're born into. I love those little rosy brown sheep! Go check out Cathy's shop – she has a couple more sheep cubes like mine, plus an adorable Japanese print of matryoshka dolls.
And as you see, I couldn't resist ordering a copy of Lisa Lloyd's new book as soon as it pubbed. I haven't had time to read deeply yet, but I already learned a lot about the properties of different breeds' wool. I'm sure there's a wealth of information here to improve my spinning, and the cabled sweaters are truly succulent. I'm not casting on anything right away: the Ivy stole and a secret project for publication with Shibui demand my fidelity as their deadlines loom. But in the mean time, this title is joining the ranks of the books I leaf through late at night just for inspiration.