Published on Friday July 6th, 2007
Meet my little cousin Asa. He's three and a half, hell on wheels, utterly charming, and therefore a tempting victim when I cut my teeth on knits for shorties. Back in the spring, my lifelong amiga Abbie asked for a cute kiddie sweater recommendation for her nephew Leif. A design idea came to me in a flash and I scribbled a raglan pullover with a traveling stitch motif up the raglan lines and panels of stockinet and reverse stockinet on the body and sleeves. I rummaged up some ancient Cleckheaton Country 8-Ply Naturals from my mother-in-law's stash and cast on a couple of months ago. I finished just in time to try it on the little dude at the big summer party last weekend — family and hometown friends galore, plus a six-foot boa constrictor. The boa swam in the pond, which the kids thought was awesome, although some of the adults weren't fully on board with the idea. (I spent a lot of time making sure small children like this one didn't drown in the pond. It's a nervous business, the whole lots-of-kids-in-water thing. We played man-to-man defense for a while but eventually had to switch to zone when a medium-size guy who actually can swim stayed in too long, got tired, and had to be rescued…all's well that end's well, anyway.) It was a hot day: great for water play, but my little cuz wanted no part of a wool sweater. When the sun finally sank below the trees he was up for modeling, providing I pushed him over the lumpy parts of the meadow: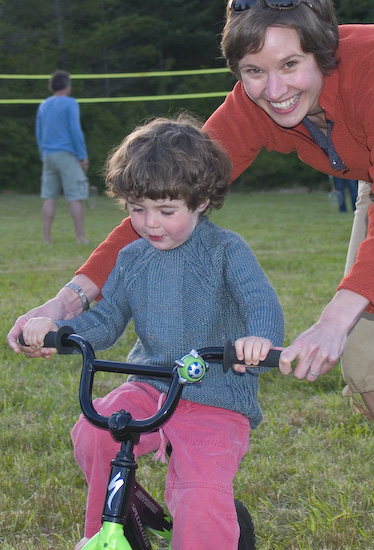 He wore it the rest of the night and even managed not to get marshmallow all over the front when his brother made him a s'more. He really likes it.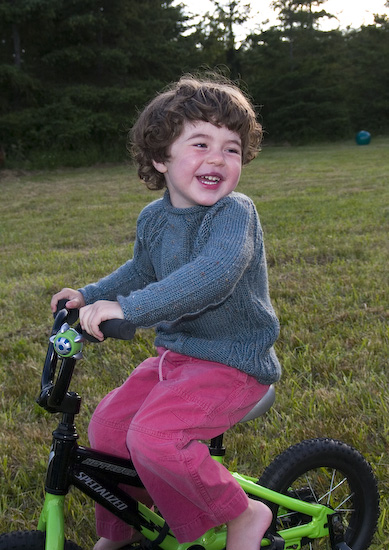 Verdict? The pattern needs work. The arms are too skinny, so I'm doing the math to plump them up before Abbie casts on a version for Leif. And I'm going to have to knit a bigger one if Asa is going to wear it when the weather actually gets cold again. But I think I'm going to like it when it's done. If the pattern proves sound, I'll offer it here.