Published on Wednesday November 15th, 2006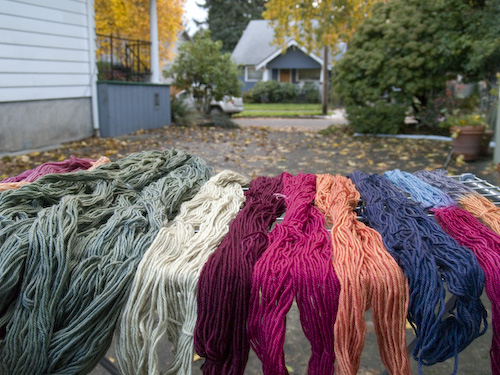 Here's the result of all my plant dyeing. And this was the best I could do for natural light between rain showers this week, folks. Sorry the pictures are so dark. From left to right:
– self-striping sock yarn (KnitPicks Color-Your-Own): madder, cochineal, and lac (more on this fiasco later)
– Henry's Attic Kona merino: osage overdyed with indigo, then dipped quickly in madder to make the green more loden and less Christmas
– Kona: "wasabi", 4 parts osage to 1 part logwood grey (This yarn refused to show its actual color in any of the photos. It is not a mildewy E.T. color at all, but a pale green like the underside of new leaves.)
– Kona: lac, darkened with soda ash
– Kona: cochineal
– Kona: madder (the batch of madder we mixed up came out very orange, not the rusty red I expected)
– Kona: logwood purple (the purplest logwood purple ever seen – we mixed it strong, but this midnight blue was quite a surprise)
– Kona: handpainted cochineal, madder, logwood grey, and indigo
Here's what I'm planning for the Elizabeth Zimmermann fair isle yoke sweater:
Loden green for the body, the other colors for the yoke. The loden has the most variation in shade – indigo just doesn't come out very even when you're dyeing this much of it, especially when it's an overdye. Some areas are definitely more orange and some are more blue. But hey, this is natural dyeing. If it doesn't look commercial, I can accept that. Hopefully the end effect will be sort of earthy and rustic, and not just ugly.
Say hello to Mingus the cat, who hasn't made an appearance on the blog for a while. He got in a whopping big fight with his arch-nemesis Felix yesterday, and today half of his face is all puffed up from a puncture among his whiskers, so we're having a quiet inside day and he's keeping my lap warm while I blog. Send him good wishes for healing and not having to go to the vet, won't you? We do hate to go to the vet.