Published on Sunday October 1st, 2006
Readers of long memory may recall that I began a sort of Mason-Dixon-Gee's Bend-Log Cabin blanket this summer. Knowing how apt I am to jump from project to project when the mood strikes, it probably doesn't even surprise you that I haven't mentioned it since. But progress has been made, of which I offer the following proof: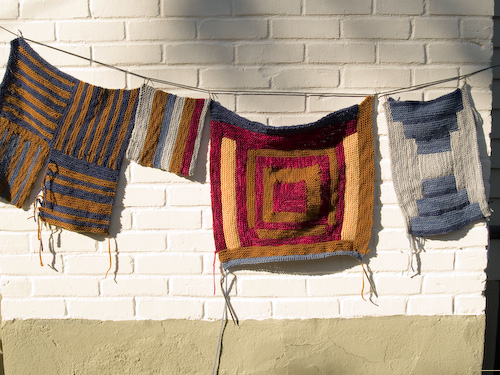 I've been stealthily knitting these at night, during movies and episodes of 24 (I'm still catching up with Season 5). Garter stitch on #9 needles makes for ideal television knitting. Hung against my chimney, they remind me of nautical signal flags. I'm not sure what I'm saying with this arrangement, but had I been a knitter in my childhood, I'm sure I would have found a way to use squares like these to communicate secrets to my friends. We loved codes and ciphers. The intended recipients of this blanket number among those early companions, and I hope they'll read my affection for them in these bright squares. I owe them a super-awesome wedding present, because their gift to me on the occasion of my own wedding was an incredible design of cranes under the moon, each bird itself entirely composed of hundreds of tiny origami cranes. We received many lovely and generous wedding presents, but that took first prize in terms of hours of loving work, and I couldn't do less than repay them in kind.
The blanket is, I estimate, half done. I have no idea how it will look in the end: I've played with different arrangements of squares, and when I've completed a few more motifs I may take pictures of the various layout possibilities and have you vote for the winner. Then I'll have to do some fancy work on connector parts, since I haven't paid a whit of attention to the size of the squares and how they might cozy up to each other.
Tomorrow: Socktoberfest is on! My socks are already underway (and yes, so is Retro Rib, which is punishing my long neglect by striping in columns like a freak).