Published on Monday October 23rd, 2006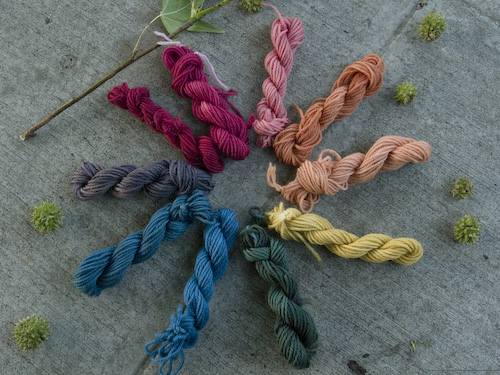 Sunday was the first day of my plant-dyeing course at Abundant Yarn. These skeinlets (prickly buckeye fruits for scale) were dyed with cochineal (ground up cactus-eating scale insects, yum yum), osage orange, chamomile, indigo and logwood. This first day was just an introduction to the natural dyes, a chance to practice mixing them and experimenting with color combinations. Over the next two Sundays we'll each dye about two pounds of yarn – enough for two sweaters – so I've been experimenting with the different possibilities. I pulled out these five…

… because they reminded me of the colors Elizabeth Zimmermann describes using for her Chainmail Sweater in the Knitter's Almanac. I have such tiny quantities of each that I can't do much more than make a wee swatch for fun, but I'm hoping there's enough to knit a little pair of wristers using one Chainmail pattern repetition. I'll let you know how it goes.
I think I'll do a bunch of the terracotta with different shades of indigo (I should be able to get a very dark blue by handpainting with a thicker indigo mixture), cutch (a mellow creamy buff, like a cocker spaniel), and maybe a little madder/cochineal true red with an eye to a Fair Isle yoke sweater. So can I get you to vote?
Option A: Terracotta body; indigo yoke patterning with red/buff accents.
Option B: Indigo body (perhaps a slightly greener-turquoise shade, if I pre-dye the yarn with pale-yellow myrobalan before it goes in the indigo vat); terracotta/red/buff yoke.
Option C: Suggest your own combination – I'll have two sweaters' worth of yarn, after all. I'm open to suggestions for pattern #2 as well.
On your mark, get set, vote!