Published on Tuesday April 25th, 2006
I'm home from the Great Wedding Tour of Spring 2006 – three in four weeks! Whew! My beautiful sister-in-law's wedding in Alpine, TX was a hoot: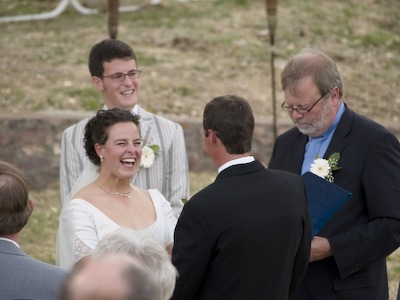 This photo also captures the elusive Mr. Garter: I'm not sure if he's ever appeared on the blog, but there he is in full stripey regalia behind his twin. Handsome devil, isn't he? Mr. Garter has a strong sense of style, which I admire in a man. Too bad you can't see all the jazzy stripes and the bright orange lining of this jacket, or the orange bow tie he wore with it for my uncle's wedding last weekend. (His sister nixed the bow tie for her wedding, so he wore a more somber navy tie…but it had a print of Democratic donkeys. That's my man!)
His sister has flair herself – check out these awesome cowgirl boots she wore under the big white dress: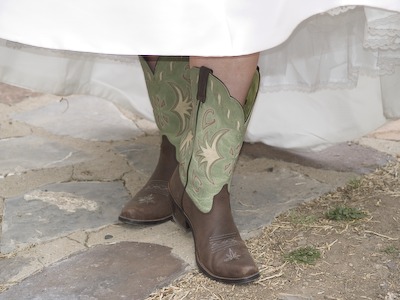 Perhaps it was the fashionable company that led me to break all my own Rules Concerning Garments Lacking Fronts and don the infamous One Skein Wonder. However, it seems that the camera sensed my hesitation – not a single picture of the shrug came out clearly enough to be useful for the blog! Here's the one shot that shows a little peep (these first three photos are courtesy of my talented friend Sean Scrivner, by the way):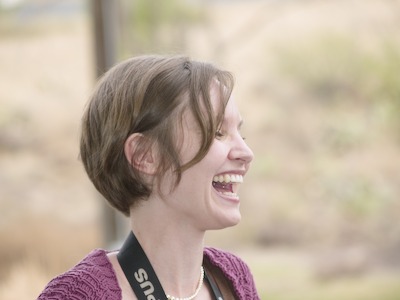 Clearly I think it's hilarious that I'm wearing this thing at all. So I'll have to do a little shruggy photo shoot for you tomorrow.
Meanwhile, as I traipsed about the west, the clock was ticking for Sockapaloooza. Here's Dalarna sock #1, reclining in the glory that was the (surprisingly enormous) trunk of our candy red Chevy Cobalt full of gerbera daisies for the wedding: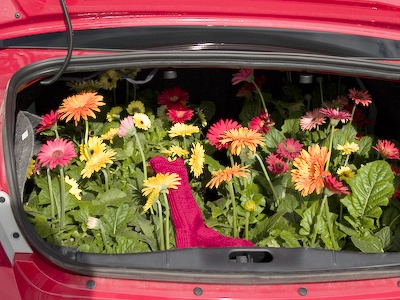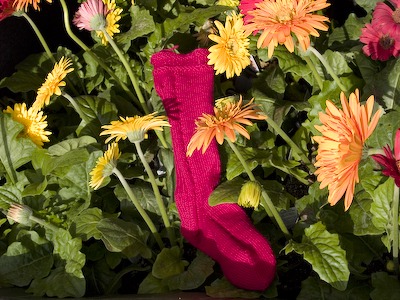 These socks have been quite the little travelers – I've knit them in five states! Sock #2 is past the heel and gusset (the last decreases were knit in the car this afternoon waiting for emissions testing at the DEQ), and since my pal has small feet, I anticipate finishing in the next couple of days. They want blocking, though, so I need to allow myself a couple of extra days before they hit the mail. I'm sort of considering going out to my father-in-law's little workshop to see if he has a band saw and some scraps of wood I might use to whip up a set of sock blockers. I want them to be looking their best for my pal, but I'm just not willing to drop thirty dollars for the Fiber Trends model I spied in the LYS. This kind of situation makes me appreciate how spoiled rotten I was to grow up with a woodworking dad and a fully loaded woodshop at my disposal. Were I up on the island, I'd trot down the hill right now, have a rummage in the scrap bin, and fire up the power tools. Yippee ki yi yay!
Okay, more hot shrug action tomorrow, as long as the thing is reasonably dry after its post-Texas bath. Cotton is truly incredible at holding moisture.