Published on Tuesday February 28th, 2006
Pssst…anybody there? I think we're clear! Mr. Garter is out for a run, so I think we have about twenty more minutes where I can slouch on the packing and blog…oh darn it, I was wrong. He's at the door right now. Maybe he'll take pity on my hapless out-of-touch state and let me finish before I go back to breaking rocks packing the kitchenware boxes. Although he's angry at me for having used the only two unpacked towels to dry some sweaters. Okay, so I forgot it's his running day and that he'd need to take a shower tonight. But anyway, I've packed him, complaining, into the shower with a damp towel that smells of mothballs (sorry, honey), so now we can talk knitting for a few moments before someone shows up to look at the apartment.
I did finish my Olympic knitting with time to spare, and to celebrate I wore it out to a secret hipster restaurant in NoLita on Sunday night instead of watching the closing ceremonies. We at Blue Garter don't typically frequent secret hipster restaurants, in case you're wondering, but we were meeting Mr. Garter's boss and he picked the place. You go into what looks like a little corner taqueria and (if you have a reservation) through a door marked "employees only", and the oh-so-much-chicer-than-thou host ushers you through the kitchen and into the secret hipster sanctum. It's all done up like a slightly divey Mexican cantina, but expensive divey (I don't know if they pull this off anywhere outside New York City, honestly). The drinks and food are pricey but delicious, and my knitting really did pull the "outfit" I'd cobbled out of what's not pack together pretty admirably. Really, though, you can wear anything you like in New York City as long as you look confident doing it. I know I'm a terrible tease not introducing said knitwear at this point, but it really does need a good six inches of ripping and reworking and then I'll be able to make a decision whether or not to pursue publication of some kind.
So I give you this: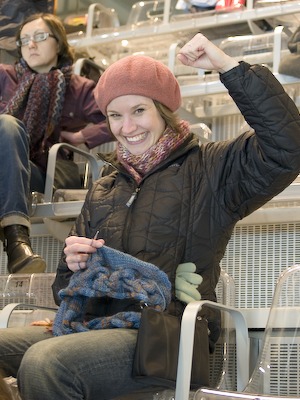 Olympic knitting, baby! Here I am at the Palasport Stadium in Torino, cheering on the Canadian men's hockey team during their rout of Germany. Now we will have a moment of silence for the subsequent ignominious fate of said hockey squad, during which we will recognize that they were just setting themselves up to make the tremendous arse-whupping they're going to dish out in Vancouver 2010 all the more satisfying. Just look at that woman in the seat behind me – she thinks I'm the whackest thing she's ever clapped eyes on, including the five German guys down below us who are dressed as farm animals and (apparently) Little Bo Peep. Feast your eyes, lady. This is all in the glorious cause of Olympic knitting. How awesome are the gold medals, by the way? Totally better than the real ones, which look like those blingy model CDs they give music artists when their records go gold or platinum.
Okay, now it's time to pack another box and roust out some odds and ends for dinner. I think it's going to be spicy black bean burgers and pasta with garlic and olive oil…the remaining contents of the kitchen are pretty uninspiring. I can't wait until the move is over. We're going to have all kinds of changes around here. There's a snazzy new design in the works and everything. I promise, it's gonna be good! Just stay tuned and bear with the intermittent posting. Thanks!