Published on Friday November 18th, 2005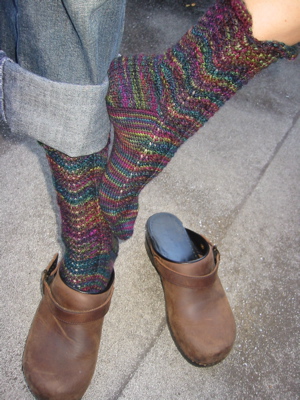 You know the holidays are approaching fast when the restaurant next door turns on their tree. They've smothered this poor ailanthus in hot pink lights. I don't just mean they've draped the strings among the branches. No, they've outlined every solitary twig. And it's HOT PINK, people. It looks like a giant faux-coral accessory for a fish tank. Anyway, the tree went on this past Sunday. So I knew I'd better speed through the toe of these socks, my first completed Christmas knitting.
Specs: Feather-and-Fan pattern, my own variation, in Mountain Colors Bearfoot "meadow". I used US#1 needles on the cuffs, but switched to #0s for the heels and feet. We have scrawny ankles and narrow feet in my family. Shapely, womanly calves? Not so much. We're plenty womanly elsewhere, thank you very much, but not south of the knees. My mum picked this yarn out on a visit to the LYS on her birthday in June, when I was home for my wedding. She isn't a knitter and I'm not sure she could sit still long enough to learn to be one, but she has fine taste in sock yarn. Maybe in another twenty years or so, if she's slowed down a tiny bit, I can teach her. It would be fun. In the meantime, I'll just knit for her.