Published on Wednesday November 9th, 2005
My server has been unusually fritzy this week, so I apologize for the length of time since the last post. I had things to show you, too – I really did! Like this: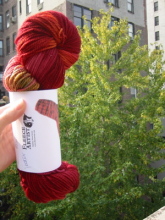 Delicious Fleece Artist sock yarn in the colorway "Jester" arrived on Saturday, kindly donated by the lovely Allison of the Simply Sock Yarn Co. for a Socktoberfest prize. Go visit her – she's got some seriously great sock yarn, and she included a very nice hand-written note with the yarn. Norma mentioned the excellent personal attention many small yarn stores give, and SSYC is definitely among them! This yarn couldn't be a more glorious autumnal range of colors. I'm extra glad to have it, as you can see the pathetic effort my tree has made thus far.
And then there's this: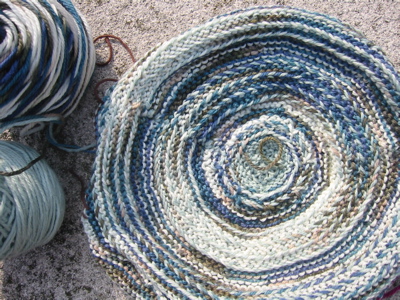 This is the Twisted Float cardigan by Annie Modesitt from Fall '05 Vogue. I began it in my class (we interrupt this message to let you now that it is doing lightning and thunder and rain outside right now. Thunderstorms in November? Huh?) with Annie at The Point on Friday night, and on Saturday I could hardly put it down. The construction makes it a totally fascinating project, and it's as good a use of variegated yarn as I've seen. I'm making a child-size version and eliminating the boucle trim in favor of a simple picot edge. I love the yarn: Lorna's Laces Shepherd Worsted in "Seaside" (and it really does make me nostalgic for the sea – these are the colors of my home) and the sea green remnants from Lisa's beautiful clapotis.
And I did this: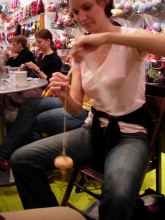 Yep, that's me with a drop spindle and some forebearing Romney! Marie very kindly loaned me her extra spindle and a little pile of roving to practice with, and then she showed me the ropes. The "yarn" I made is utter crap, of course. But I'm learning, by golly! Soon I'll get the hang of it…not that I have time for another addiction, especially with Christmas looming so menacingly and so much gansey left to knit.
We'll end with a gratuitous cat picture, just because. It's knitting related, though: we're reading our new copy of Nancy Bush's Knitting Vintage Socks. Ah, happiness.