Published on Sunday August 7th, 2005
…As long as it's a nice autumnal desert island, so I can wear my new Crusoe socks: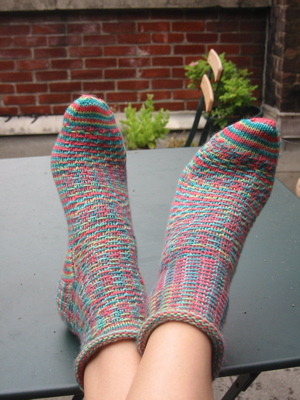 I finally got around to finishing Sock #2's neglected toe, so I've officially completed my very first pair of socks. In anticipation of wearing them this fall, I bought these on sale in North Carolina:
Yum, Dansko clogs. I've wanted some for a long time, and the need to show off the socks I'm making finally pushed me over the edge. I'm glad I caved in: they're very, very comfortable. Of course, it's not exactly closed-toe-footwear weather in New York City yet, and it's certainly not wool sock weather. In fact, it was rather a struggle to wrestle the socks onto my swollen feet (they're only swollen from the heat – just because everyone else in Knitblogland seems to be getting knocked up doesn't mean I have to jump on that wagon just yet!). But I'm glad these little puppies are all done.
Notes on the Crusoe Socks (pattern from Knitty): I used Knit Picks Sock Memories merino in colorway "Hawaii", thoughtfully gifted by Mia for my honeymoon, and US size 2 Brittany Birch dpn's. I knit the smaller size, which was a mistake. The extra four stitches would have made them a lot easier to get over my heel. These socks are SNUG. But they're comfortable once I've spent a minute tugging them into place. I love the short legs – no need to worry about the sock saggage. On both socks I came out with funny math at the toe: I was supposed to wind up with ten stitches to kitchener, but I had twelve, as given for the larger size. And I had to do some rearranging to get an even number of stitches on my two needles. But these are very minor quibbles, and quite probably my own fault. In all, I loved knitting this pattern and will probably make these socks again.
In other knitting news, there was a Spiders & Friends yarn swap at Kaitlyn's house this weekend, and a good time was had by all. No squabbling or cat fights over a whole sweater's worth of Debbie Bliss cotton alpaca whatsoever, and lots of good yarn found a new home. I'll be showing off my scores when I cast on for new projects. I'll just leave you with this parting shot, as a cautionary lesson: don't give knitbloggers too much rum punch. It lowers their inhibitions. And then they make their friends do ridiculous things so they can post pictures on the web. "Roll in the stash, Katie! Just roll in it!"