Published on Sunday December 4th, 2005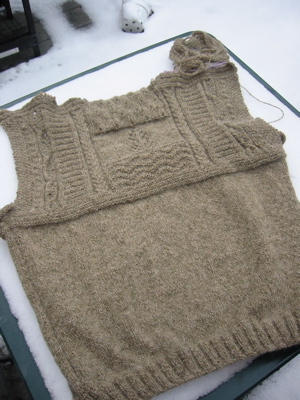 When I promised pictures of my father's sweater this weekend, little did I know I'd be taking them in two and a half inches of new snow. I've given up trying to photograph this yarn indoors, and this was all the natural light that was on offer today. But you can see I've completed the back. And I'm happy to report I'm more than halfway up the tree motif on the front now, too. Here's a closer shot that better shows the design: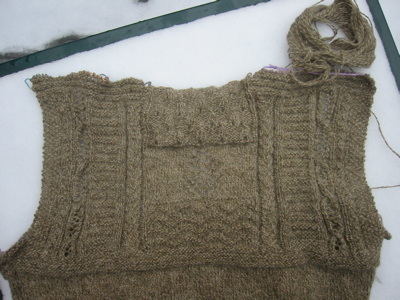 The goal is to finish the body and start on the sleeves before the week is out. Of course, that means I have to dream up and chart the sleeve pattern.
So, a quiet day of knitting and watching Horatio Hornblower. I hope it snows again tomorrow. The weather people can grouse about "nuisance snow" as much as they please, but new-fallen snow will always hold a sense of magic for me. It gives me a shiver of delight when I wake up to see the landscape…um, cityscape…transformed.
There was certainly no sign of snow last night when I stumbled in late after the Spiders holiday extravaganza, lavishly hosted by Amanda and Katie. Those girls know how to lay out a spread, let me tell you. They made filo samosas, sweet potato puffs, baked brie with mushrooms, spanikopita, umpteen dips, and let's not gloss over the truffles and the fudge, nor the signature Spiders cocktail. I foolishly failed to photograph any of ones I drank, but here's a screwdriver with a spidey twist: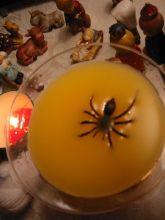 And the gifts we exchanged:
The Spider version of a gift exchange is pretty polite compared to some I've attended. I was only robbed twice. Lisa took some yummy Christmas-colored Manos, and Veronique boosted my seafoam Lobster Pot. But I went home happy with a nice score of Australian handpainted laceweight in purples, blues, and teals, and some snazzy stitch markers from Zephyr Knit. (Amanda, you'll have to tell me the website again – I googled it and couldn't find it!) A merry time was had by all, including the significant others, who found plenty of common ground in discussing our depravities and founding the Fraternal Order of International Non-Knitters (FOINK), or to be more PC since not all the members are gentlemen, OINK.
20 days and counting. Happy Frenzied Holiday Knitting, everyone!